We live in an ever-expanding world of influencers. Technology has evolved significantly. Now we can see there are ways to rank our own YouTube videos using tips and tricks. Ranking can increase subscribers, improve viewer count and traffic. In the evolving entertainment industry, it is vital to consider implementing ranking tips. It provides a step toward success. Also, it gives an upper-hand with respect to your competitors. Increasing visibility of a video could not only increase viewer count but also has a high impact on subscriber count. Not only for new YouTubers, but these tricks could also help those who might already have a significant subscriber count. In the world of viral memes and videos, it is crucial to improve the ranking of videos. To solve all the issues you have, we have done this article. Here is the tricks to rank videos on YouTube
Few Factors That Influence Ranking:
Keyword Relevance
Number Of Views
Sharing
Channel Strength
Title
Trust
Authority
Audience Retention
Reactions
Comments
Tips to Improve The Ranking of your Video
Video Content
The contents created should be appealing, educational, creative, appropriate and enjoyable. Use the YouTube platform without any skepticism. For instance, basing the content creation could be on promotions, launching new products or anything unique. In the case, if you are trying to replicate a video to its every detail, the video might not receive expected views. So, please do avoid it. Earlier, creative ideas were not given as much recognition as they do in today's world. Innovation is acceptable, and as a matter of fact, demanded by people. Putting your true self out to the world instead of pretension is acceptable and wanted by the audience.
In conclusion, create content that people would love to watch, comment and share, and ask them to do so if possible.
Keyword Selection
Giving the video a proper name is imperative. Find the right keyword familiar to the general audience. Use the long-tail phrases that show-up on YouTube. Typing the keyword in the search box gives a drop-down list of frequently searched phrases. Using these phrases could be extremely valuable. Additionally, To know the most trending keywords use Google Trends.
Additionally, Keyword Research Tools help you find the most prominent and game-players keywords. This tip could definitely turn the tables in your favor. It might sound unimportant and simple, but selecting the right keyword plays an essential role in growth.
Video Length
Statistically, longer videos rank better than shorter videos. However, here, the question arises how one would know the proper length of a video?
In short, it depends on various factors such as category and content. If one feels the length justifies the content don't wait, go for it. To clarify, the time of the video should at least be 2 minutes.
However, as important the video length is, don't stress over it. It all comes down to what you want to make, how interesting is the video and is the length according to the content.
Description
Description of the video plays a vital role in the videos ranking. Google and YouTube would understand the content of the video in a better way with accurate description. Aforementioned gives a chance of finding the video quickly when searching a keyword.
A few important rules:
Include the relevant keyword in the first 25 words
Description length should be at least 250 words
Multiple mentioning of related keyword
Tags work as an essential step to a higher ranking. Add a few popular tags, add keywords, add relevant tags.
If a particular video is location-based by adding the location and specific keywords would increase the ranking. In case the video cites a link to another video mention the embedded videos.
Playlist
Efficient playlist increments additional signal layers to the YouTube video. Therefore, create a fresh playlist using synonyms.
For example,
Primary Keyword: Guide to Ranking YouTube Videos in Google
Secondary Keyword: How to Get More Views on YouTube Videos
File Name: Guide to Ranking YouTube Videos in Google – How to Get More Views on YouTube Videos – Webris
Description: Link to video + [Insert transcript].
Playlist name: YouTube Video Marketing – Rank.
Advertisement
Not only boosting audience retention but also promoting the video plays a crucial role in ranking. Depending on the video content mention the video in all the associated websites. Hence, this increases the viewership and popularity of the channel. Responding to comments and interactiveness in a friendly way could make viewers want to watch more videos.
Dress-Up the page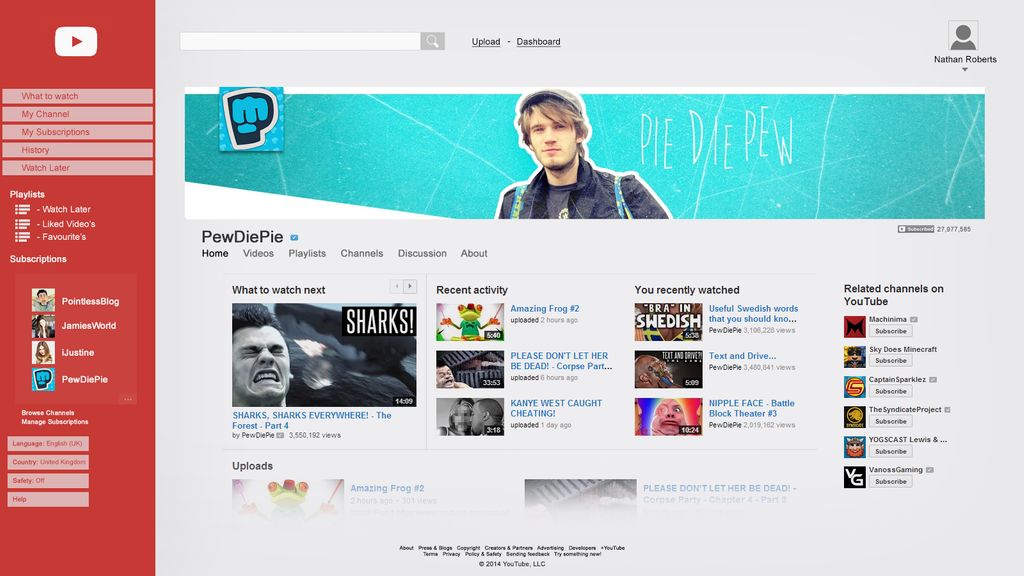 Lastly, the appeal of the page to eyes rises the ranking. For showing the audience interest and genuineness of the channel, it is imperative to design it. Subscribers might assume it to be a spam account if the channel page is considerably dull. Decorate your channel page like a baby, make it look as appealing as you can. The more attractive it looks, the more curiosity builds in the viewers.
More On youtube: How To Get More Subscribers On Youtube.
To sum up, following these tips and tricks could boost the ranking of your video. Smaller details are essential but often missed out. After reading this, implement these steps and get more viewers.