There are two kinds of people in the world – those who decide their career choices when it's time to pick a college, and those who know what they want to be at a very young age. I belonged to the latter category. I knew I wanted to be a crime reporter when I was in class 6th. I didn't know the pros and the cons, but my heart was set on that. Eventually I did expand my horizon just a little to journalism in general, but my goal remained the same.
We often hear people say class 12th results make or break your college admissions. Turns out that was never the case, because the real challenge it to ace your college entrance exams and the interviews. I applied to 3 different universities- Indraprastha University, Amity University and GD Goenka University. My main focus was to stay in Delhi for my graduation. I got into all 3 colleges, but the real challenge was to decide college one would give me the best exposure. My family chose Amity University, Noida as my alma mater. The facilities that Amity provides beat all others.
It's true that the fees was extremely high considering it is a private university, but Amity had so much to offer that it became an easy choice. The interviews and the entrance exams were not tough to crack. Class 12th marks did not hold as much as importance as I was told they would.
The 3 years I spent in Amity University were no less than a roller coaster ride. We had a total of 6 semesters, and 11-13 different subjects in each semester. Amity made sure to squeeze out every aspect of Journalism and Mass Communication they could think of. The subjects ranged from Advertisement, Public Relations, Event Management, Print Media, Radio, Content Writing, Communications and the list goes on. Amity also ensures one compulsory foreign language subject.
We got to experience what it's like working to work in real life situations while being a journalist. They have an entire floor that has a Radio Station, Production Control Room and a TV studio setup. The students were actually required to learn every aspect of being a Journalist. We got to be a part of the Amity Radio station, produced our own news broadcasts and also controlled the PCR. I believe there is no better way to learn something than to experience it real time. That is exactly what Amity gave us- perspective. It also offers study abroad semester programs that gives you an opportunity to travel to a different country and study in a different setting and culture for more than 45 days.
The campus is huge and offers a lot of comforts to the students. There were a few challenges too, but everything comes with it's pros and cons. For me, the biggest con was the how strict Amity is with its attendance. When they say a minimum of 75% attendance it compulsory, they don't let you sit for exams even if your attendance is at 74.5%. The other thing that I found a little challenging is that since the campus is so huge, it is really hard to commute from one place to the other. I don't think the cons outweigh the pros, and I'm still glad I chose to do my graduation from there.
One last thing that I would like to mention is that they offer a lot of extracurricular activities. The Amity Youth Fest is something every Amitian looks forward to. It's for the students and by the students which offers us to chance to do a bit of event management too. The Sports events are also a huge thing for Amitians. They encourage you to take part in different sports and have a large dedicated area for the sports enthusiasts. They have a football field, tennis court, indoor basketball court and a huge swimming pool.
If you are interested in doing your graduation in Journalism and Mass Communication, I hope my experience will help you understand that when we take the 'private, expensive university' tag from it, Amity has a lot to offer and will give you a lot of clarity on whether you want to make a career in this field.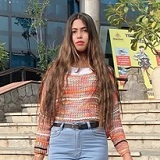 Latest posts by Anshu Shukla
(see all)