One of my favourite parts of winters are the winter delicacies. There is so much to enjoy during this season, but my sweet tooth craves Dhodha the moment it starts to get a little cold.
The Dhodha is a super gooey, soft burfi with grainy texture that will leave a burst of flavour in your mouth after the very first bite. The core ingredients of this sweet are ghee, milk, sugar, liquid glucose and alum powder. It is topped with tons of dry fruits that give it a crunchy twist.
This dessert was initially invented in the Khushab district in Pakistan in 1912, by a local wrestler Hans Raj. He invented it as an energy bar for he wanted a food item that was easy to carry and also provided him with the required energy and nutrients during his wrestling training. The world 'Khushab' is a mix of two Persian words "Khush", meaning sweet, and "Aab" which means water.
I feel Dhodha is one of the most underrated Indian sweets of all time. A lot of people are not aware of the richness of this dessert and end up overlooking it in sweet shops. I'm saying this from personal experience because I too had never bought this for many years. I got a wedding invite 2 years ago which had a section of the Dhodha Burfi and the first time I tried it, I realised how rich our cuisines are.
It's available all over the country, and with the convenience of the internet it is now possible to order from different states right to your doorstep. If you're a resident of Delhi and would like to try this locally, I would recommend the JV Evergreen shop. I get my share of Dhodhas from this sweet shop, and it never disappoints me. It is a relatively heavy dish, so try to curtail to 2 pieces in a day 🙂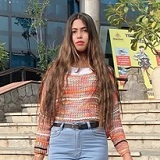 Latest posts by Anshu Shukla
(see all)