I usually order one meal from outside once in 2 or 3 days. I'm not a very health conscious eater, so I definitely indulge in some yummy goodies quite frequently. This has been the lifestyle for me since the past few years. Although it definitely makes my tastebuds happy, it comes with it's own set of drawbacks. The biggest drawback for me is that since I've been ordering different cuisines so frequently from multiple restaurants, I've been finding myself running out of options for a few weeks now. Although I usually stick to the same few dishes, it's so hard for me to find something that actually tempts me.
I go out to meet my friends every day after work. I spend every evening eating things like burgers, fries, pav bhaji, cookies, wraps and other things with my friends. We sit in Starbucks Epicuria, Nehru Place every day, so the food items we eat are also limited to the restaurants and outlets that are available in Epicuria. Eating the same food every single day eventually you do get fed up. Sadly, this was the case here as well. A few days ago my friends decided to eat outside and so they took me to eat chaap in Amar Colony market, New Delhi. I had never eaten chaap before that, so they got me three different varieties. I was so mind blown that I had never tried this dish all my life!
For the uninitiated, the soya chaap is a kind of vegetarian meat that resembles the texture of chicken, but is actually made up of Soya Beans. Soya bean is one of the most underrated plants that definitely needs to be given the recognition it deserves. The soya bean plant is widely used for the beans it produces. These beans are extremely versatile and along with that, they are highly beneficial for the body. Some of the soya food ingredients include soya milk, tofu, soya sauce, soya chunk, and a lot more. It is a very good source of Vitamin B and proteins. Soya chaap is definitely one of the most loved street foods of North India, and is very popular. This is exactly like vegetarian meat!
Coming back to the place where I tried chaap for the very first time, I went to Mr. Singh's Tandoori Hut, which is located in the main market of Amar Colony. I tried the Afghaani Chaap, Tandoori Chaap and the Malai chaap along with the roomali roti. The Malai chaap is described as "Creamy soya chunks marinated in special blend of species cashew, black pepper and chaat masala", the Tandoori Chaap is described as "Soya chunks marinated in tangy spicy masala and cooked to perfection with onion and capsicum", and the Afghaani Chaap is described as "Soya chunks marinated in cashew nut base and cooked in tandoor". All three of these are finger licking delicious. The Roomali Roti is a sort of Indian bread that is extremely thin and limp, and is served folded like a handkerchief. It pairs best with Mughlai starters, and is also used to make rolls by most restaurants.
Tandoori hut has a wide range of food items, some of which I have heard of for the first time in my life. Some other dishes that I'm interested in trying are the Veg Surmai Fish, Veg Singhada Fish, the Veg Pomfret Fish, and the Veg Soya Mutton Rogan Josh. I mean have you heard of veg fishes? I certainly have never heard of this. My friends who took me there have said so many good things about the food there, including the items that I mentioned I would like to try. They also have a variety of main course veg dishes that definitely sound amazing.
So tonight, for the second time, I ordered the Afghaani Chaap that was my best pick amongst the lot. I got the half portion size, and two roomali rotis. The half portion size was enough for two people and tasted very good even though I ate it almost 40 minutes after it was prepared. I definitely recommend this place to all my fellow chaap lovers, and to those who want to try it for the first time like me.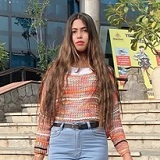 Latest posts by Anshu Shukla
(see all)