Technological advancements have changed the buying habits of customers considerably. As a result, ways like email blasts and mass advertising have become less effective now. If you have been looking for potential ways to build a strong relationship with your prospective customers then you have landed at the right place.
Take a sneak peek into the most effective lead generation ideas used by the top digital marketers of the industry. Here you go-
1) Schedule Your Adwords Ads to run for High-Response Periods
The sales bandwidth can be cast only with hot leads. Religious use of ad scheduling will maximize the returns on your investment. It is worthless to meet the queries of your prospective customers when the heat of their 'burning needs' is at its lowest point. Hence, it is important to determine the 'active hours' of your audience and use advanced campaign settings accordingly. Here is the screen view of Adwords Ad scheduling-
This hack can raise your cost per acquisition up to 69%.
2) Build a Network through Conference Speaking
Look out for the industry conferences related to your field. Generally, big cities comprise the center of such conferences. So even if it calls out for traveling, be sure that it's going to be worth it. Some of the reputed digital marketers including Neil Patel use this hack extensively. Industry conferences will introduce you to the influencers and potential customers. The IDG report of the Lead Generation Marketing Trends says it all –
3) Embed Pre-fill Contact Data Feature onto the Enquiry Form
 According to a study, Most of the people don't really like filling personal info on the inquiry form. This might be taking away some of your potential leads. Iron Mountain, a reputed software company came up with a brilliant idea of pre-filling data using the techniques like personalization engines. Here is an example-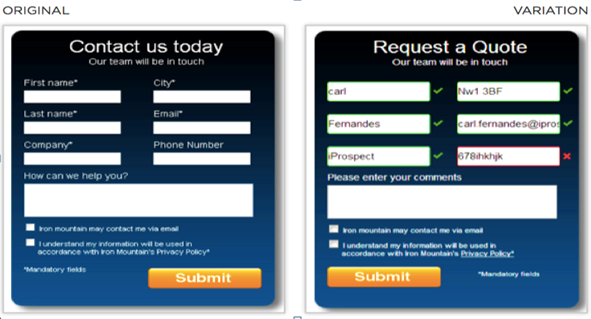 Amazingly, this magic trickled to increased conversions and optimized the leads by 140%. Even KISSmetrics has employed this trick in its webinar sign-up form.
4) Curate Content Like a Pro
The language of your content (be it call-to-action or advertisement) should be inviting as well as trust generating. Security of the data and product/service charges are some of the biggest concerns for the subscribers/visitors. It is easy to win the trust of the audience with great content. You can deliver your message much more effectively using a "safe language." For example, if you are giving a free newsletter, consider something like this-
 5) Craft a Persuasive Call-to-Action
This hack is extremely important but often overlooked. Your CTA should feature the appropriate use of words and most importantly contrasting color that can grab an increased number of eyeballs. Adding too much information can make your CTA messy. Follow an 'F Patterned' CTA as below-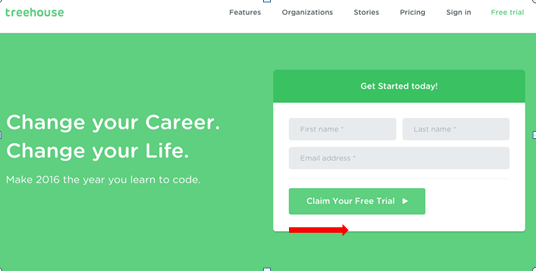 Note that the word "start" (commonly used) is replaced by "claim" which is much more effective.
 6) Add Enticing offers to 404 Page
It is either a typo error or the visitor's fault that lands him/her to the 404 page. However, you aren't the defaulter here but sure you can use this error page to your advantage. How? Include links to the important pages of your site or a lead magnet (it could be a low commitment offer or a high-value deal) in the page's content. This is indeed a great trick to keep your potential customers interested in your product/service. Have a look at the creative 404 page of Bas Rijksen's site-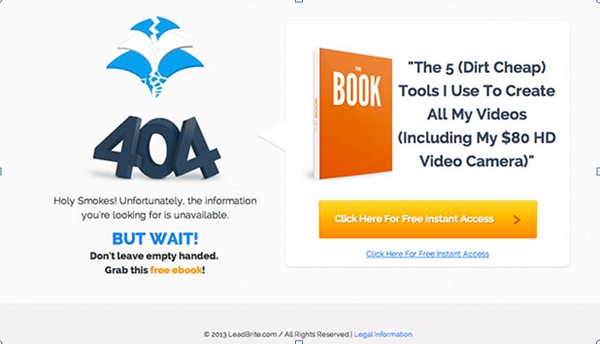 The Concluding Word
Simply employing lead generation hacks isn't enough. Consider continuous testing of your landing page elements for better results. From the headline to bullet points and subtitles, every element of the website, including its content plays a vital role in lead generation. Experiment, perfect your weaknesses and embrace your strength for maximum benefits.
Goodluck!