First time when I saw my Google AdSense estimated and finalized earnings?
I grabbed my head.
There were many questions that arose in my mind.
Why these earnings are different from the estimated ones, what is the difference between estimated and finalized earnings, now what to do, how to fix it?
There were lots of other questions and I was unable to find the answers to them, then I read the Google AdSense policies and many other articles.
Now I am able to write why and how our AdSense earnings get deducted?
Firstly you should know the differences between Google AdSense estimated and finalized earnings.
AdSense estimated and finalized earnings
Estimated earnings
The earning earned from todays, yesterdays, previous weeks and months through clicks and impressions.
Finalized earnings
Earnings earned after deducting due to invalid clicks and impressions.
I would recommend read this Google AdSense page [https://support.google.com/adsense/answer/32852?hl=en] to know more about it.
Now the question is that why and how our earnings get deducted from Google AdSense?
There may be many reasons to deduct earning amount from estimated earnings:
Invalid clicks activity
If there are invalid clicks on your website ads by you or other readers (Hold on… clicks on the ads by yourself can cause the account to be banned, Google is very smart and can easily catch your invalid clicks activity so please don't try to click on your ads from your system or other systems which are connected from the same IP address. for example – if you have 2 or more laptops connected with the same IP address WiFi or other device). I would recommend not to click on any ads by yourself through those laptops, mobiles etc.
Somehow another questions arises in our mind "I didn't click, then how there is invalid click activity?"
There may be other people who want to harm your website by clicking more and more ads or there may be someone who clicked 3 or 4 ads on the website within few seconds or minutes. But don't worry such kind of clicks are considered as Invalid click activities and Google deducts earnings from your estimated earnings and doesn't ban the website for it.
If you are getting more and more clicks from the same IP address and your CTR (Click through Rate) is suddenly rising high then you should worry and should report it to Google.
Activities which do not match the Google AdSense policies
If there are clicks which do match under the Google AdSense policies may cause the deduction from your estimate earnings, for example if someone added your website within the iframe or if you are encouraging people to force click on Ads.
If Google didn't get paid for the ads from the advisers, this is clearly mentioned on the Google page. [https://support.google.com/adsense/answer/2808531?hl=en&ref_topic=1261918]
In rare case if Google could not receive payment from certain advertisers, your estimated earnings may be deducted.
For more details, see the below image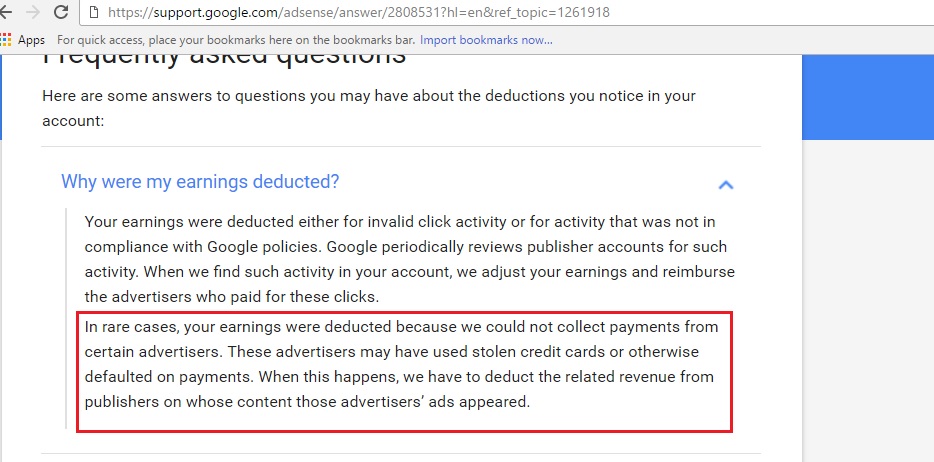 How to prevent Invalid ad click activities?
Read Google AdSense guidelines, how you can prevent invalid activities on your website. I am just writing the points only read in details from this links [https://support.google.com/adsense/answer/1112983?hl=en]
Analyse your website traffic and website visitors
Remove links from entrusted or low ranking websites
Don't click on your ads, even avoid ad impressions
Don't check too many times your ad implementation
Prevent unauthorised use of your AdSense Ad codes
Discuss on the Google AdSense forum
And do not place your AdSense Ad code on your newly created website
If your finalized earnings is very low than the estimated earnings, then you should be worried about it and take strong steps to implement above mentioned points to avoid your website from Invalid click activities.
If you have any doubt about AdSense you can write your queries in the comment box and if there are lot of invalid activities with your AdSense Ads go to the AdSense forums and discuss with the experts or report it to Google. They will help you to overcome this situation.