Writing good, influential blogs does not happen overnight. It takes a lot of learning, improvising, and editing the content you have written. While some people have good inherent blogging skills, some develop it over time and with practice. If you are just starting out to right, and not getting a good response from others, don't worry. It's just the start.
Mistakes Most Amateur Bloggers Make While writing blogs
In this article, I will cover big-time mistakes most amateur bloggers make that hinders them from writing good content blogs. While some might have excellent content, they don't know what to do after writing a blog. In this article, I will cover big-time mistakes that amateur bloggers make that hinders them from writing good content blogs. Here are some of the mistakes you make when you just start out to write a blog.
Not doing in-depth research for the topic
If you do not do appropriate research for the topic, the content you write looks very shallow and hastily written. It misses depth, is boring to read and looks plain to the reader. Remember, they are thousands of other blogs on the same topic and if your blog doesn't interest the viewer and are not catchy enough, they can land up on different pages with the same topic. So, conduct in-depth research.
Analyze what the topic is really about, what is the influence of the topic in real world and what are the surveys, studies, facts related to what you are writing. Then give out your opinion-What do you think about the topic. Since people love giving and hearing opinions, they will find your content much more interesting.
Not writing interactive content
When amateur bloggers are just starting to write, they write a blog that somewhat takes the form of an essay. You blog has to be read by thousands of people who are hungry for knowledge. So, it is important to make your content interactive. Write the article using 'You and I'. It should look as if you are personally talking to your reader. Include good and relevant images and infographics. Since the visual content is becoming more useful than written content, don't forge to make your blog visually appealing to the reader.
Copying others' writing style
Most of the bloggers who are starting out to tend to copy the writing style of others. Though it is good to see samples, it is not advised to completely copy them.
Here is a good advice-When you are starting to write a blog on specific topic, just ask yourself 'If I would have been reading the blog, what would I want to know about the topic?'. This is a sure shot way to bring up creative ideas about your content and give you good quality content.
Not promoting your blog
Nowadays, so many platforms are in the market where you can easily share and promote your written content. Utilize your social media handles like Facebook, Google as well as other niche platforms like Pinterest, Quora to promote your content. Include hashtags along with your article link so that it can reach to a maximum number of people. Encourage your friends to read the article and share to their friends and so on.
Writing to fulfill the word count
When you write, write not just to increase the word count, but to put your ideas across in the right manner A blog with 500 words and good, knowledgeable content might be much better than a blog post with 1000 words and just plain text.
Customize the word count according to the topics you are writing. For example if your are writing articles about technology or newly released software, try to be on-the-point. Where as if you are writing on topics like health and lifestyle, you can write explainable statements and write wordy content.
Not paying attention to the formatting
Suppose you have written an article with thorough research and have properly put your point across in the article. But the one single blunder you do is not including subheads, not breaking the text into paragraphs, not including links etc. These blunders can pose huge problem for people who have busy schedule and just have a few minutes to read your blog.
Since people have a tendency to skim the blog before reading it; focusing on the headings and bold text, they might prefer to skip your article to find a better one. Also, make sure to use correct grammar. You don't want users to mention 'their vs there' mistake in your article inside the comment box!
In this article, I have covered the mistakes that amateur bloggers make. If you find any of the given mistakes in writing your blog, try to correct them right away. If you also made mistakes will writing blogs in the start and rectified them later, let us know how you corrected them. Share your views in the comments section below.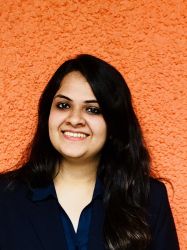 Latest posts by Bakul Jain
(see all)