Amazon has made online shopping the easiest thing to do. Instead of going through the hustle bustle of crowded markets, everything gets delivered at home from one single click. Along with being extremely easy, it is also a little tough on the pocket at times when we "over-shop".
My house is under renovation from the past couple of months and that is why we are always on the lookout of new things to add, to beautify our home. Although we do need to go to the market to buy some of the major things like furniture, tiles, sinks, mirror and other similar items, we have been shopping a lot from online websites too for the other things like decoration pieces, plants etc. Every single day, multiple parcels get delivered to our house. We choose to keep some, and we return the ones that we don't like. No one wants to leave the comfort of their homes in the cold of winters and that is why our best friend currently is Amazon.
Amazon.com, Inc. is an American Multinational Technology Company, that focuses on e-commerce, online advertising, cloud commuting, artificial intelligence and digital streaming. It is said to be as "one of the most influential economic and cultural forces in the world". Along with that, it is one of the most valuable brands in the world. It features among the top five American information technology companies next to Apple, Alphabet, Meta and Microsoft. Started in July 1994, this was initially an online marketplace for books, but it eventually expanded into a multitude of product categories. It earned itself the moniker The Everything Store. Some of the products it sells includes media (books, movies, music etc), apparel, beauty products, electronics, jewellery, toys, home and garden items, and the list goes on.
Majority of the things sold by Amazon are from registered, authentic vendors who use this website to make the shopping experience easier for it customers. It also gives them the platform to reach to a larger audience, and it helps the customers to choose the best product by giving them hundreds of options. These customers also post their reviews on the pages so that it can help other people to decide whether to invest in this product or pass it. The best part is that almost everything has a return or exchange policy, so that if someone is unhappy with the product they bought, they can easily send it back. Like I have been reiterating, this is the easiest way to shop and the future of shopping.
Coming back to where I started, my mom and I have spent so much time these past few days finding out the perfect options to decorate our newly refurbished home. The choices confuse us so much that we order 10 different varieties for the things we like and keep the ones that look the best. The refunds are instant so we don't think twice before paying. This has saved us numerous trips to the market and the mall where we need to go to different shops to get variety. Yes, we do go overboard almost everyday, but in my opinion shopping is also our therapy so we enjoy it throughly. As soon as I'm done writing this post, I know I'll switch to the amazon app to get so many more things. Waking up to new parcels everyday gives me so much happiness and I wouldn't have it any other way.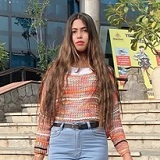 Latest posts by Anshu Shukla
(see all)