Two of my favourite desserts are waffles and pancakes. 20 points to everyone who got it right (which means to everyone considering this is the topic of the blog)! I have been a diehard lover of pancakes and lovers since about 4 years now. I have a list of favourites that I always go to or order from, and I'll be lying if I said I wasn't a frequent eater.
A waffle is a dish made from leavened dough or batter, which is cooked between two patterned plates that gives it a characterised shape, size and surface impression. These can be made fresh or simple heated after having being commercially cooked and frozen. These come in a lot of varieties all over the world, and can be eaten plain or with various toppings such as butter, chocolate sauce, maple syrups, fruits etc. Coming to my other favourite dish, a pancake is a flat cake, which is often thin and round. It is mostly prepared using ingredients like flour, butter, milk and egg, but it can also be prepared using pancake premixes, without eggs or even with wheat or protein powder. These are prepared in pans or in case of mini pancakes, these are prepared in a mini pancake mould. Pancakes are also eaten with the same variety of toppings as waffles.
I have different places depending on whether I'm going out to eat physically or ordering it at home. When I go out for waffles, my absolute favourite places are Rose Cafe, Saket, and The Big Chill Cafe. The place I like best for both waffles and pancakes while dining out, I absolutely love Wafflesome, Greater Kailash 1. Eveytime time I go to Wafflesome, I end up ordering the dark chocolate and nuts waffles and the Double Chocolate pancakes with dark chocolate sauce and bananas. The places I order most from when I'm craving pancakes at home are London Bubble Co., Amar Colony and Belgian Waffle Co. Although I do like London Bubble Co. more, the Belgian Waffle Co. is a close second.
After today, I was craving some yummy mini pancakes and so I instantly jumped to Zomato. To my dismay, I found out that London Bubble Co. was shut for delivery today, and I instantly headed over to order from Belgian Waffle Co. My mom is also a huge waffle lover, so I ended up getting two waffles and one mini pancake. Both the waffles I ordered were the Belgian chocolate dark waffles, that are described as "Classic Crispy Waffle + Melted Belgian
Dark Chocolate. Darker Simplicity!", and the Chocolate Overload- Dark Mini Pancakes that are described by the restaurant as "Signature Dark Chocolate Mini
Pancakes + Melted Belgian Dark Chocolate. Double The Chocolate!". As always, these were absolutely scrumptious. Waffles and pancakes never fail to make me happy and these places that I eat from are the absolute best.
For someone with a sweet tooth, I feel chocolates don't make me as happy as a few waffles and pancakes do. The crunchiness of the waffles with dark yummy chocolate oozing from it, and small cute pancakes with oodles of dark chocolate topped with Bananas is my guilty pleasure. If I ever want to change the toppings, there is a huge list of options to choose from, along with tasty fun toppings. Although I am a dark chocolate lover which is why I don't often switch that, I sometimes do like to experiment with the toppings. In such a case, I choose Chocolate chips, sprinkles or roasted Almonds. I could literally keep going on and on about how much I love these dishes but I know i need to stop somewhere. I'm super grateful that these dishes were invented and I truly hope my favourite places never shut down.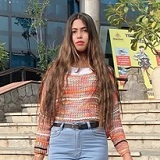 Latest posts by Anshu Shukla
(see all)