Hello guys, today I'm excited to share that I got Starbucks Kenya and Italian roast beans as a reward. This gift gave me the opportunity to share about these coffees with you. I enjoy my cup of coffee while writing this
"By the third sip, I was hooked. I felt as though I had discovered a whole new continent."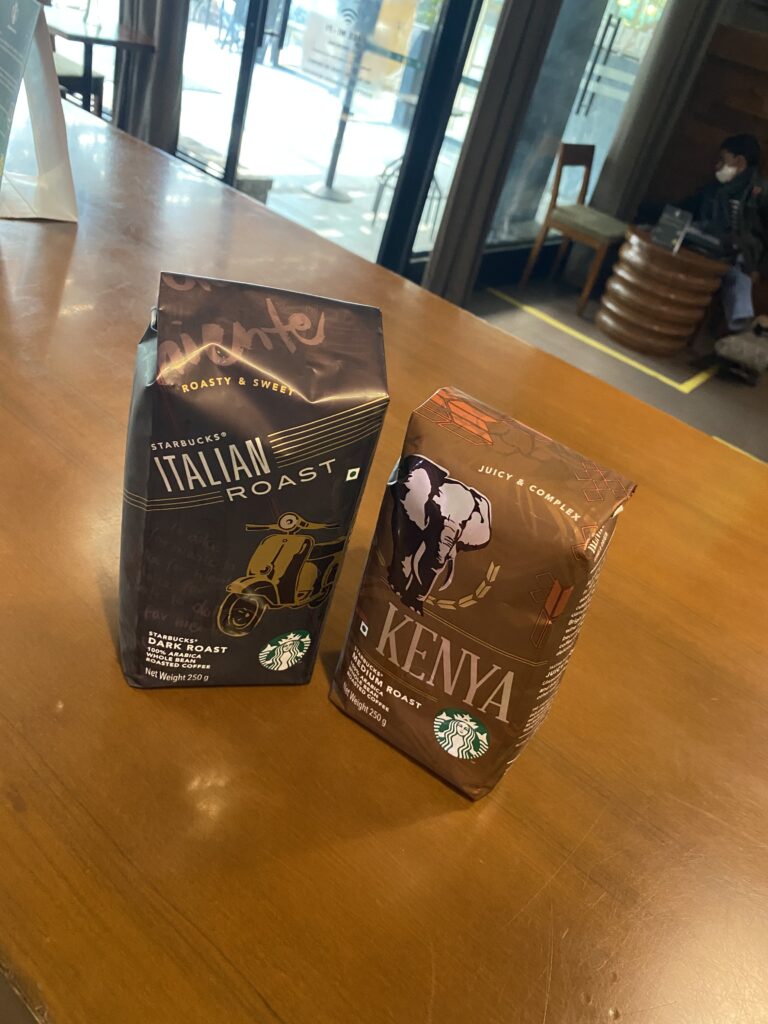 Starbucks Kenya Coffee
This is the most lovable coffee in Starbucks. There are many brewing methods by which you can enjoy this coffee like a French press, pour-over. It is also available in espresso from mastrena. These coffee beans can be enjoyed in cold too.
Production
It is said that world's best coffee is grown in Kenya. There are many factors which clarifies last sentence.
Factors-
Soil: Kenya coffee is grown in volcanic soil. Volcanic soil increases fertility which leads to the best quality of the coffee.
Temperature: In Kenya, there is found ideal temperature for the production of coffee
High altitude: The coffee is grown at high altitude have high density, high density coffee is harder and can take darkest in roast
Rainfall: Rainfall in Kenya is 1000 mm throughout the year and these factors create a perfect microclimate for coffee.
History:
The history of Coffee in Kenya dates back to the late 1800s. Scottish missionary John Paterson introduced it. Documents show 1893 as the year coffee was first planted.
In Kenya, coffee production started in 1893 by farm missionary
It was sowed in Kibwezi, near Mombasa. The first crop was reaped in 1896. Since then, Kenya coffee has become one of the world's most sought after.
Kenya is a major coffee producer ranking in the top 20 coffee exporters in the world.
Only 1-2% of over 40,000 metric tonnes of coffee produced yearly is drunk locally.
Two-thirds of this production comes from small-holder farmers estimated at around 700,000.
Kenya coffees are easily available at a store near you or from online retailers. If in Kenya you can buy your coffee at some of the coffee shops or leading supermarkets.
Description:
FLAVOUR: This coffee has a juicy and complex flavour. It is balanced, smooth & rich.
ACIDITY: High
BODY: Full
GROWING REGION: Africa
PROCESSING METHOD: Washed method
ROAST: Medium roast
COMPLEMENTARY FLAVOURS: Oranges, black current, citrus fruit
Starbucks food which you can pair up with Kenya: Lemon loaf cake, blueberry delight cake.
Innovation:
This coffee is available in cold as well. This is known by the name of Kenya cold brew. This is brewed for 48 hours. This can be enjoyed in the cold because it does not lose its flavors in ice also. It is so concentrated and bold coffee because the contact time of water and grinded coffee is 48 hours.
Black coffee lovers enjoy this without any flavor. This is also available with some flavors like vanilla sweet cream, coconut cream, cold foam cold brew, and so many new flavors.
Kenya beans have so much potential to innovate new flavors.
Africa Region Coffees Taste Profile
Coffees from the Africa region are known for lush and juicy with flavors from floral and citrus to berry and spice.
My story:
I really love this coffee, I brew this with a French press which produces a bold cup of coffee and all the solids, café oil, and all flavors we get into the cup. Whenever I want to have lighter roast coffee I order this and I get a refresh. 
Kenya Coffee Drinking Culture:
The coffee-drinking culture In Kenya is small or restricted to major urban areas.
It's usually a preserve of the cultured and exposed folks. That is the middle and upper-class market.
Some Kenyan communities living in Mombasa drink traditionally brewed espresso daily. Many small-holder farmers have never tasted their end product as they can't afford it.
Italian Roast Coffee
This is Starbuck's quintessential dark roast — expertly crafted to bring out sweetness and intensity. It showcases the precision and skill of our roasters, who created a coffee that's slightly darker than our Espresso Roast without the smoky edge of French Roast. A great cup of coffee, it has a depth of flavour that holds its own with cream and sugar.
My story:
I had already tested it in Starbucks in a small coffee tasting which was led by Seema.
She made me taste this amazing coffee, she also introduced the French press to me. I really liked that and purchased one French press. Now I enjoy this roast at my home.
Italian Roast Description:
FLAVOUR: Intense with a rich, deep flavour and notes of caramelized sugar, roasty and sweet.
ROAST: Dark roast
BODY: Medium
ACIDITY: Low
PROCESSING METHOD: Washed
FOOD PAIRINGS: Caramels coffee cakes, desserts-especially those made with caramelized sugar
GROWING REGION: Multi-region, Latin America and Asia pacific
Brewing Methods
This coffee can be enjoyed in the French press, pour over –dripping method, you can enjoy this coffee at your home and can go to any coffee house and can explore it.