It's almost Christmas time and the city is filled with love and light, once again. As I sit here today in Starbucks, Nehru Place, I look at this place with fond memories of the year we are leaving behind. A year full of new learnings and unforgettable memories.
We grew up waiting for Santa flying on his sleigh, to come at midnight to give us all the gifts we asked for in our letters to him. From believing in Santa to learning how our parents were always our Santa, we've grown up, but not too much. In our hearts, we're still little kids who believe in a little magic here and there.
For me today, the magic lies in having a cup of hot chocolate with my friends. The magic is in the star shaped lights that adorn L' Opera while people sit inside stealing a little time for their loved ones. The magic is in passing a smile to that Barista who never forget to add extra chocolate sprinkles in my drink. If you look closely, you'll find a little magic in every thing.
Although Christmas is not a festival of India, we have always celebrated it with the same joy with which we celebrate any other Indian festival. We decorate Christmas Trees and keep gifts under it. We put up cute lights and make paper snowflakes. We even get to see Gingerbread houses in bakeries and cafes!
It's the season to be jolly. To welcome new opportunities with open arms. To embrace all that is coming our way with courage and faith. On moments like these, I stop to think how beautiful everything is around me and how we tend to overlook these things in our busy schedules on a daily basis. So today, stop everything you're doing just for a minute and look around you. Stop to look that beautiful Christmas Tree in the corner of that cafe. Stop to take that toffee from the guy dressed up as Santa Claus in the mall. Stop to tell your loved ones you love them and never forget to enjoy the little moments in life.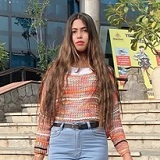 Latest posts by Anshu Shukla
(see all)