Christmas time is definitely one of the prettiest times of the year. Everything is decorated in such a beautiful way- all the cafes, the restaurants, even the malls. From the huge Christmas trees to the amazing Christmas decorations, your heart feels happy during this time. It is not that to get into the Christmas spirit, even for those who don't celebrate. We might be a little too old to believe in Santa Clause, we're definitely never too old to believe in the spirit of this time of the year.
Today, my friends and I decided to go for a nice pre-Christmas dinner. We were meeting up with someone for the first time and it was actually his idea to go to Diggin, which is a pretty famous restaurant in Delhi. We got a little late because everyone had their own share of work, so we left for the restaurant around 9pm. Diggin has multiple outlets across the city, and it is absolutely breathtakingly beautiful during Christmas. It was an easy choice considering the ambiance. The food is also amazing so we decided to go to the Chanakyapuri outlet.
Diggin Chanakyapuri is located in the Santushti Shopping Complex, and it is run by the Air Force Wives Association. Since it is located in the Army area, the timings are 10 am till 9:30 pm, and you're required to show an ID pass before you enter. There are multiple cafes and aesthetic art shops. There are also a variety of clothing stores in this complex which are beautifully designed and spread out over the area. This Diggin outlet is definitely one of the best outlets in Delhi. Coming back to where I left off, this was our first stop. Since we reached there around 9:20, we found that this place was fully booked and it was shutting down by 9:30. Definitely disappointed, we decided to head over outlet number 2, which is located in Connaught Place. Although this too was beautiful, we found it to be too hot inside the restaurant, so we left before we ordered.
We did a little street shopping in Connaught Place, and bought a reindeer headband and a flower tiara. It was so much fun to roam the streets in the crisp cold winter air. We weren't going to give up on dinner so we went to the third (and last) outlet, which is located in Bikaner House. Oh my God, this place took my heart. It was so beautifully decorated, and it looked absolutely breathtaking. All the riding around was instantly worth it and we couldn't be happier with what we saw in front of us.
After about 15 minutes of waiting, we finally got a table and we ordered a soup, an arrabbiata pasta, margherita pizza and our friend also ended up ordering Rosemary grilled chicken. The food was finger licking delicious but the ambiance made our experience a 10/10. We chatted over dinner and made some amazing memories and we were all so happy by the time we left. We clicked a couple of photos and stayed there till 11:30pm. The restaurant was shutting down so while we were clicking photos, the waiters were getting ready to shut the place. At the end of it all, I can just say today we made memories that would last us a lifetime. I honestly think everyone reading should go for dinner with their friends or families, and make some unforgettable memories. We all deserve some time off with our loved ones, so even if it means putting your work on hold for a couple hours, it is worth it. We'll always spend majority of the time in our lives working, but these moments are rare and should be stolen, and cherished at all cost.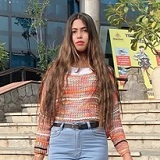 Latest posts by Anshu Shukla
(see all)