I started experimenting with my hair when I was in class 11th. As a junior, I used to see the senior girls with coloured hair and I was always so fascinated. I never liked my hair as a young girl- I was born with black curls that were somewhat in between curls and waves, and were always untamed. I imagined how it would be to have different colours in my hair and as soon as I became a senior, I went for it.
The first time I coloured my hair, I chose red. Small chunks of red. Once I started, I couldn't stop. Passing out from school gave me the green light I needed, so I went for bolder colours. By the time I reached college, I was experimenting with pinks, purples and blues. It made me so happy! By this time guys had also started experimenting with hair colours and i realised this wasn't the gender specific stereotype that I had grown up learning. I didn't want to stop, but I knew it was causing a lot of damage to my hair. I didn't stop completely, but I slowed it down a little. I stuck to the basic reds and browns that wouldn't need bleach which wouldn't further damage my hair.
Hair Bleaching is the process of lightening the hair colour using bleaching agents. The most common commercial bleaching agents include hydrogen peroxide and persulfate salts. Bleaching helps the hair colours to come out brighter on the hair, giving you a completely different look.
A few months ago, I decided to experiment with my hair again. I wanted to get pink, and I knew all the time I had spent away from these hair products would ensure that my hair wouldn't get damaged as well. I did end up bleaching my hair and getting the colour done but it faded so quickly that I decided I would try it at home myself where it doesn't hurt my pocket the way salons do. For a while now I had been reading about a home grown company called Birds of Paradyes on Instagram. Birds of Paradyes was founded a few years ago by Yushika Jolly, who like many others, wanted to experiment with vibrant colours that were not available in markets to do at home. She teamed up with professionals and began R&D to formulate hair colours in a lab. The Indian market had very few options of DIY (Do It Yourself) hair colours. For years Indian hair had been sidelines because of the darker shades of Indians. Paradyes semi-permanent hair colour aimed to bring beautiful hues to life varying darker shades of natural hair colour. The Paradyes products are Ammonia-free, Paraben Free, PPD-free and damage free. The try to be as eco friendly as possible and minimise wastage by using glass jars with tin caps for their products and their brushes are 60% bamboo fiber. The glass jars are also reusable. Their hair dyes are made from products like Aqua, Citric Acid, Basic Dyes, Amla Extract, Bhringraj Extract, Brahmi Extract, Aloe Vera Extract, Hibiscus Extract, Almond Oil and a few other.
They have a shade from everyone, ranging from funky colours like Pinks, Blues, Grey, Purples and Green to subtle colours like Blacks, Browns and Red. This list of colours goes on. They also have some great hair care products like hair butters which is made from Macadamia Oil, Quinoa, Flax Protein etc, Quinoa shampoo and conditioner. These are so good for the hair. It also has DIY hair bleaching products.
If you're someone who likes to experiment with you're hair, whether you're a boy or a girl, I would a hundred percent recommend this. From a girl who's obsessed with hair colour, this had become my go to product.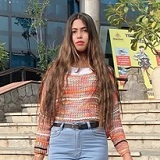 Latest posts by Anshu Shukla
(see all)