Today like every other day, I rushed straight to Starbucks, Nehru Place as soon as I finished my office. Going to Starbucks every evening with my friends has become a ritual for me over the years. I start my work at 11am, and my office ends at 8:30. Right after this I go to Starbucks, and if I ever change this routine, my day seems incomplete.
I usually sit with a piping hot cup of Caramel Macchiato, but today I decided to get a Venti (the largest size) of Green Tea, with a melted slice of Dutch Truffle Gateau. The official name for the Starbucks green tea is Emperor's Clouds and Mist Green Tea, which Starbucks describes as: "Receiving plenty of rain during the early spring harvest, this is a curly, silver-speckled, leaf-and-bud green tea combination with a lightly floral beginning, a toasty middle body and a softly sweet finish." This does not taste like the average green tea we get in the market or coffee shops. This has a special taste that will leave you wanting more. If you feel like it's too hot to drink in summers, Starbucks has an Iced version of this to cool you off too. The best part is that if you take a Grande (medium) or Venti (large) size, you get 2 sachets of Green Tea. You can either add both these sachets in your drink or you can add one while you're drinking your tea and take the other home. You can also get the hot water refilled in your cup as many times as you want! This would mean you can have multiple cups of green tea with one sachet. Two for the price of one is a deal worth taking, right?
The Truffle Gateau also had a burst of flavour. As mentioned by Starbucks, this is "An indulgent chocolate sponge cake layered with dense chocolate truffle". The cake is so spongey that it straight up melts in your mouth. The employees heat it up a little before they serve it, so that it's warm and tastier. This goes well with coffee or even if you're craving something sweet, this will satisfy your cravings. Starbucks has a variety of amazing food and coffee items. I'm sure many of you have tried some or most of these. Since I go there everyday, I too have tried a lot of items from their menu. These two items are also a part of my list of favourites, so when are you getting yours?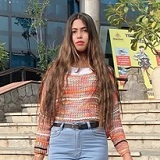 Latest posts by Anshu Shukla
(see all)