Working in the corporate meaning working for over 10 hours everyday. It definitely gets really tiring and boring at times, but everyday is a day to push a little further. It is especially hard to work in the winters, and be out of the warm, cozy quilt. This past week has been awfully tiring for me and I was almost losing my will to work today.
As a little backstory, I work as a compliance analyst in one the leading companies of India. Since I started my job during covid, it started off as work from home. It is also a new project that was introduced by the company during the first wave of Covid-19, the resources were hired from different locations of India. There are multiple offices all over the country, but they do not have an office in Delhi. Ultimately, my reporting office was selected as Mumbai, so in case they start calling us to the office it would mean that I will have to relocate to Mumbai. That in itself is a huge bummer. However, I have been a part of the company since about a year and half now and they're continuing the work from home culture, so I'm still here to enjoy Dilli ki sardi. My shift timings are from 11am till 9pm, so as I've been mentioning repeatedly, it is honestly draining at times.
With the temperature dropping down to 8 degrees, I was in absolutely no way to work today. My bosses kept pushing me to deliver more and more and I got so emotional that I was on the verge of crying. The only thing that cheers me up is food. Shocking huh? Most of us find comfort in food i specifically order something sweet when I'm feeling terribly low. I was in the mood for some muffins today. Two days ago I was scrolling through snapchat and saw a story of this influencer who had posted a photo of these delicious looking muffins from The Baker's Dozen. I had honestly never heard of this place before this but I felt like the chocolate was calling to me. I wasn't even sure if there was an outlet closer to my house, but I still hopped onto Zomato and searched. I thank my lucky stars that I found an outlet 10 minutes from my house in Greater Kailash 2 market!
So I ended up ordering the Chocolate Overload Cupcakes. My vegetarian friends, these delicious cupcakes are eggless. As described by The Baker's Dozen, "The favourite chocolate cake, in eggless cupcake forms! Made using Dutch-Processed Belgian Cocoa Powder. Packed using FreshLock packaging technology that retains its oven baked freshness." These retail for 134.75 rupees, and we get four big sized muffins in this box! The packaging is also super cute and festive.
They have multiple outlets all over the city, and they also have some other amazing options for you to choose from. Best of all, the options also include healthier food choices like whole wheat food options that are available in both sweet and salty variants, Ragi crackers, smoothies and gluten free food. They also have a variety of dips and jams! It is so tempting to order multiple options in one go, and trust me it all looks so good. Although I've only ever tried the chocolate overload cupcakes till now, I'm definitely looking forward to trying a variety of other options. Ordering the muffins brightened my day quite a bit and gave me the comfort hug that I was looking for. Definitely recommending it to you fellow foodies.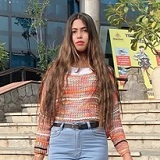 Latest posts by Anshu Shukla
(see all)